Upcoming Training:
Please note a zoom link will be sent at least 2 days prior to class and you will be in a zoom waiting room until about 5 minutes prior to class.
Introduction to Floodplain Management - 3 day virtual course: 
9:00 am - 4:00 pm daily
August 3-5, 2021: Register here
September 14-16, 2021: Register here
Course Description
This Introduction to Floodplain Management course is designed to familiarize participants with various aspects of the National Flood Insurance Program (NFIP) to ensure they have the necessary tools to be successful as local floodplain administrators. Three key topics will be examined and discussed: Welcome to the NFIP – "What the Flood?", "MAP IT!" (More Acronyms Please), and "That's a FLAP!" – Floodplain Action Plan: Keys to Success. These topics will prepare the participants to understand their role and responsibility in enforcing the community's local floodplain ordinance and the NFIP regulations.
Target Audience:
The target course audience is for local officials responsible for administering their local floodplain management ordinances, for example:
• Newly hired or newly assigned floodplain administrators / managers
• Current floodplain administrators / managers that are seeking refresher training
• Building codes officials / inspectors
• Permit officials
• City and County engineers
Continuing Education Credits:
This training course has been pre-approved for 18 UCC credit hours through PCCA, and 12 hours of CEC for Certified Floodplain Managers (CFM) through the Association of State Floodplain Managers (ASFPM). Participants must attend and participate in all three days in order to get credit for the training.
Registration:
There are ONLY 45 seats available for this virtual training course. Registrations are on a first-come, first-served basis.  
Floodplain Ordinance Update Process Walkthough
Floodplain Model Ordinance and Higher Standards Walkthrough
Archived Webinars
FEMA RESOURCES
·         Thinking Beyond Flood Maps – a story map highlighting communities that use FEMA data for more than floodplain management ordinances
·         Planning for Future Conditions – a brief guide for local officials and planners that explains the importance of considering future risks
·         Building Community Resilience with Nature-Based Solutions: A Guide for Local Communities – a resource to help communities make the business case for nature-based solutions
Articles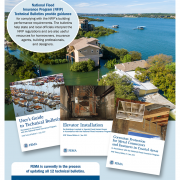 Additional Resources
New PrepTalks Added with a Focus on Building Community Resilience:
Neighborfest—Building Resilience from the Block Up — Daniel Homsey
In his PrepTalk, Daniel Homsey shares his tools for building resilient communities at the neighborhood level and why empowering neighbors to help themselves is the best way to prepare your community for any disaster. Daniel Homsey is the Director of the Neighborhood Empowerment Network (NEN) for the City Administrator's Office of the City of San Francisco. The NEN empowers residents to build and steward stronger, more resilient communities.
https://www.fema.gov/preptalks/homsey   
Using Codes and Standards to Build Resilient Communities — Stuart Tom
In his PrepTalk, Stuart Tom provides an overview of the importance of building codes and how codes and standards are developed. He explains that model codes and standards are adopted and enforced by jurisdictions and he shares how the community can get involved. Mr. Tom is the Fire Marshal for the City of Glendale, California, and a member of the Board of the International Code Council (ICC). He also served as a member of the Los Angeles Uniform Code Program Steering Committee and co-chair of the State Fire Marshal's Wildfire Ignition ad-hoc committee.