REMINDER: ANNUAL REPORTS DUE every February
We wanted to remind you that the Floodplain Management Activities Annual Reports are due to PEMA by the end of February each year.  These reports cover the period from October 1 – September 30 annually. For municipalities that have not yet done so, please go to the PEMA Floodplain Management website (https://www.pema.pa.gov/Floodplain-Management/Pages/Government-Resources.aspx) and click on the link for the report form. The end of February is the due date. Thank you for your participation and please reach out to RA-EMFLOODPLAINMGTIN@pa.gov with any questions.
Floodplain Model Ordinance and Higher Standards Walkthrough
Floodplain Ordinance Update Process Walkthough
Archived Webinars
FEMA RESOURCES
FEMA Funding for Post-Disaster Building Code and Floodplain Management Enforcement:
For more information Click: FEMA Policy FP 204-079-01  The FEMA R3 Fact Sheet from September 2021 was emailed to most registrants on September 16, 2021.
·         Thinking Beyond Flood Maps – a story map highlighting communities that use FEMA data for more than floodplain management ordinances
·         Planning for Future Conditions – a brief guide for local officials and planners that explains the importance of considering future risks
·         Building Community Resilience with Nature-Based Solutions: A Guide for Local Communities – a resource to help communities make the business case for nature-based solutions
Articles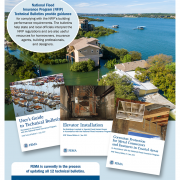 Additional Resources
New PrepTalks Added with a Focus on Building Community Resilience:
Neighborfest—Building Resilience from the Block Up — Daniel Homsey
In his PrepTalk, Daniel Homsey shares his tools for building resilient communities at the neighborhood level and why empowering neighbors to help themselves is the best way to prepare your community for any disaster. Daniel Homsey is the Director of the Neighborhood Empowerment Network (NEN) for the City Administrator's Office of the City of San Francisco. The NEN empowers residents to build and steward stronger, more resilient communities.
https://www.fema.gov/preptalks/homsey   
Using Codes and Standards to Build Resilient Communities — Stuart Tom
In his PrepTalk, Stuart Tom provides an overview of the importance of building codes and how codes and standards are developed. He explains that model codes and standards are adopted and enforced by jurisdictions and he shares how the community can get involved. Mr. Tom is the Fire Marshal for the City of Glendale, California, and a member of the Board of the International Code Council (ICC). He also served as a member of the Los Angeles Uniform Code Program Steering Committee and co-chair of the State Fire Marshal's Wildfire Ignition ad-hoc committee.